Wash Bays
Chiefs Australia - Wash Bay Solutions
For those looking for major improvements in vehicle presentation and throughput, we can provide customised and cost-effective solutions for setting up or upgrading an existing wash bay. Our touchless washing approach using specifically developed chemicals and easy to use applicators, add efficiencies to any vehicle washing operation.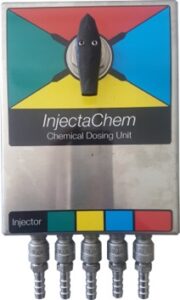 Australian designed and manufactured, the Injecta Chem combined with German manufactured application equipment, provides the option of having up to four Nerta or Chiefs touchless chemical products available to wash bay staff, at a twist of the handle. The products can be customised according to the needs of the operation. For example, Nerta Active Diamond for trailers, Chiefs Platinum Wash for prime movers with polished aluminium, Motor Cleaner to degrease and Nerta Carnet Jumbo for the company utes.
The system in also increasingly being adopted for the removal of more stubborn contaminates, such as red dirt typically found in WA, with the use of our own Duo Wash formula. Duo Wash is our most powerful dirt removal system yet and is already bringing significant savings to some of the larger fleets operating in Australia.
Chemical usage through the Injecta Chem is also set at a constant ratio, normally around 100:1, which ensures a massive saving on product usage. In addition of course, being touchless, vehicles will be cleaned in a fraction of the time compared to traditional "bucket and broom" methods.
Setup is quick and simple as the system will be matched to any existing pressure washer. It comes with a German Suttner chemical resistance easy trigger gun, new lances with fitted ceramic tips and either a single Suttner foamer or a rollover lance, that all quick connect to the gun for ease of use.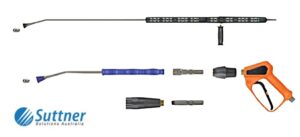 At Chiefs, we offer both installation and staff training on the various chemicals, PPE requirements and best practice on how to clean your fleet as efficiently as possible.
For more information or an on site demonstration, please complete the form below and we will get back to you as soon as possible.
Only available within Australia.